RUDI STRUIK
2018 Playing with light and shadow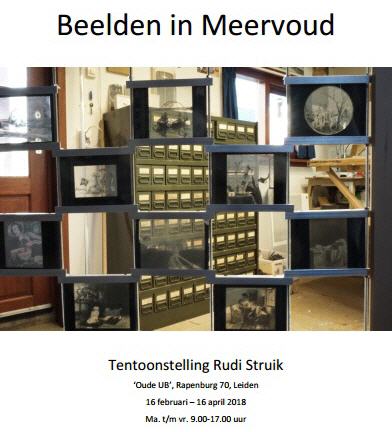 Depictions of Rembrandt, Michelangelo and many other artists are given a new dimension in an exhibition in the hall of the Oude UB at Leiden University. The exhibition - 'Multiple Images' - opens officially on 15 February. Artist Rudi Struik has given the slides of Leiden art historian Henri van de Waal a new lease of life in his art installations.

Struik has created a mini cinema in the hall, where visitors can put together their own performance. The artist built lightboxes from wine crates and installations with artistic representations of screens. The result is a visual light and shadows spectacle of slides, the teaching material used by Professor Henri van de Waal. When he died in 1972, Van der Waal left behind an enormous image archive with at least 8,000 slides, more than 6,000 cameras and a mass of dark room material.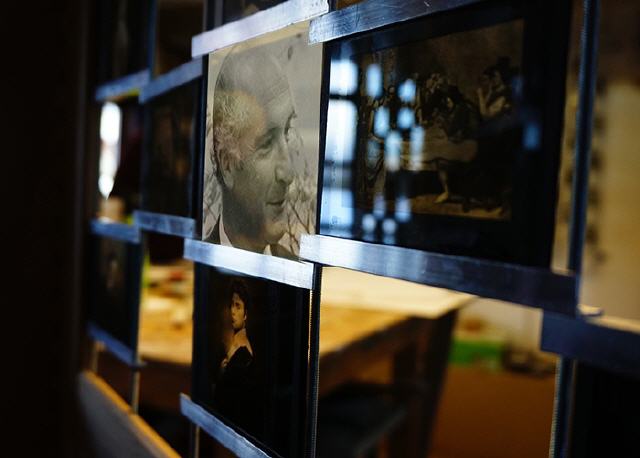 A series of slides with a portrait of Henri van de Waal in the centre.
Archive under threat
Part of this archive was under threat of being lost when the Print Room that had been part of the Art History department was incorporated into the Special Collections at the University Library. Although this collection was clearly special, it was not considered unique because of the many double items it contained and the fact that slides can be mass produced. The then curator asked Leiden Professor Kitty Zijlmans and her husband Rudi Struik whether they were interested in taking over the collection. Struik, whose artistic work includes recycling old materials, saw a green metal filing cabinet and was immediately interested.

Saved from the bottle bank
Together they rescued thousands of slides, and the filing cabinet was transported to Struik's studio. Struik: 'Van de Waal's memory is in these slides and I thought it would be a pity if nobody saw them again.' Struik experimented with all different ways of exhibiting them. He put the slides in lanterns so that they again became light images. He also scanned the old labels with very detailed descriptions and enlarged them onto white plates. Visitors to the exhibition can look for the images that match the labels.

Exhibition
The design and construction of the exhibition were in the hands of artists Frida van der Poel and Antoon Ruigrok. Struik: 'I was looking for artists who understand space and know how to modulate it so that the works of art and the space form a new unity. The exhibition shows their favourite slides, that together open up new worlds.'

Visionary outlook
Van de Waal was an expert in Dutch art history from the 16th and 17th century, but he also had a visionary outlook on photography. In 1953, on behalf of the University he arranged the purchase of the Grégoire collection comprising thousands of artistic photos. Museums were not interested at the time, but they later regretted their decision. His life story is memorable on several counts, Zijlmans commented. Van de Waal worked as a lecturer at Leiden University in 1940, but was dismissed because of his Jewish origin. He spent the war in camps and once the war ended he returned to Leiden. With his innovative theory on imagery, he inspired numerous art historians, some of whom will visit the exhibition on 15 February. Zijlmans: 'This exhibition is also special because the material is directly linked to the history of the Art History programme and consequently to the history of Leiden University.'

The work of Rudi Struik (1947) is characterised by its enormous diversity of materials and techniques. Perception, memory, selective history and the recontextualisation of objects and images are recurring themes in his repertoire.
UNIVERSITY HISTORY
Exposition from 16-02-2018 till 16-04-2018 Oude UB, University Leiden, Rapenburg 70, Leiden

TAKE A TOUR....
2018 Beelden in meervoud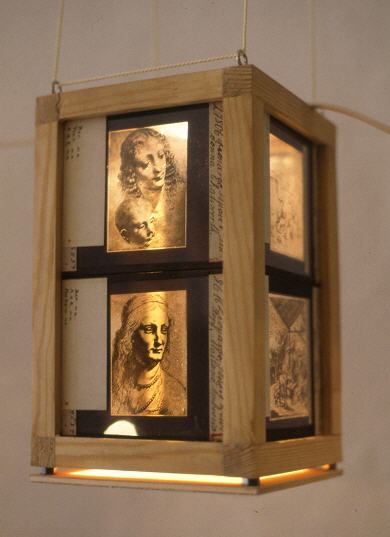 'Beelden in Meervoud is een tentoonstelling van de glasdia-installaties van beeldend kunstenaar Rudi Struik. Dit zijn werken waarin oude 10 x 8.5 cm glasdia's, afkomstig uit het archief van Henri van de Waal, hoogleraar kunstgeschiedenis in Leiden van 1946-1972, een prominente plek hebben gekregen. Toen in 2002 de collectie prenten, tekeningen en fotografie van het toenmalige Prentenkabinet – gelieerd aan het Kunsthistorisch Instituut van de Universiteit Leiden – van Rapenburg 65 verhuisde naar de Universiteit Bibliotheek aan de Witte Singel en werd ondergebracht in de afdeling Bijzondere Collecties, werd er meteen een grote schoonmaak gehouden. Uiteraard verhuisden de boeken, archiefstukken, de door Van de Waal verzamelde fotografica, camera's en doca-materiaal mee naar de UB, maar niet alles hoefde of kon mee.

LEES EN KIJK VERDER.....

De expositie is te bezichtigen in de Oude UB, Rapenburg 70, Leiden, van 16 februari tot 16 april 2018, tijdens kantooruren, vrije toegang.
Introduction Rudi Struik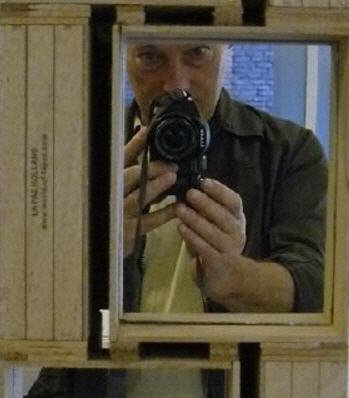 Rudi Struik's work is characterized by a large diversity of materials and techniques. Especially his early work shows a great care for the materials – particularly wood - and their handling. Wood meant a warm, 'living' material for him in which he felt able to express himself freely. Without a preconceived concept he started to work with a piece of wood; while carving, an idea of a form developed, initially following the natural grain of the wood, later in combination with other materials, such as Perspex and metal.

More recently, the emphasis is on the production of 'murals' and assembled objects and installations. In the series of murals, randomness plays an important role. By making plaster casts of (rusted) metal sheets, the outcome of texture and color is unpredictable. The colors are formed by the oxidation of the metal. They are absorbed by the plaster, creating beautiful patterns and colors. The mural are further worked out by drawing, painting or small relief's.
The assemblages and installations are multifaceted and often combined with light. Disregarded materials, such as old wooden cigar and wine boxes, and old bronze water tap, but also old glass slides from the Department of Art History of the University of Leiden that in the



olden days were used for art historical education but which are now redundant, receive a new identity and gain a new potential of meaning in the new context of an art work.

Recently, he started experimenting with digital camera images. Unusual viewpoints, camera angles and materials create new worlds of imagery. Enlarged, they built environments that generate a experience.

Recurrent themes in his work are: perception; memory; selective histories; de- and recontextualizing objects and images; stories of migration.


One step leads to...